In our final instalment, Celeste Licorish talks about what she loves most about her job at HCF.
Part of what you do at HCF is to advise donors. What's your favourite aspect of this work?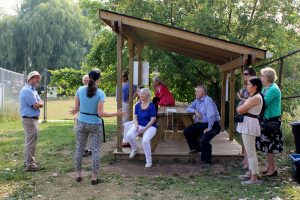 It's exciting for me to be able to share impact stories with donors to let them know what's actually happening on the ground. For example one of the developments that is really exciting right now is McQuesten Farm. Living in a nearby neighbourhood, I got to hear about this woman who had this amazing urban farming idea, and now as an employee of HCF I've actually seen this working farm with its windmills, big harvests and beautiful vegetables!
It's great to be able to let donors know about the real difference that they're making. And also to let them know that residents are feeling more connected to each other because of their donations. Giving is one of those things where you can't help but feel good about it. I want them to feel GREAT when they know about the real connections that they are helping to create.