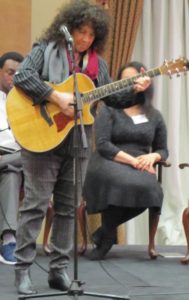 Over 100 people gathered for breakfast on November 16th to celebrate women's philanthropy, an annual event hosted by Hamilton Community Foundation's Women 4 Change initiative.  The theme was Driving Positive Change is an Art and the audience was treated to three powerful performances using video, poetry and music that spoke to important issues that affect the lives of women and girls in Hamilton.  Among the themes explored were sexual violence; why we laugh at things that are clearly not funny; and the difference between "them and us" which very often results from nothing more than circumstance and opportunity.   Audience members shared their personal experiences, affirming the themes presented by the artists.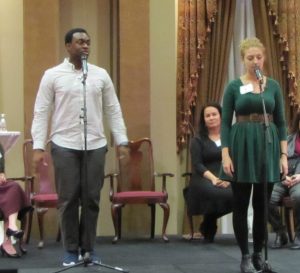 The artistic vehicles served to heighten both the poignancy and the urgency of the issues.  So too did the conversation that followed in which a number of people spoke of the impact the recent US presidential campaign and election results have had on their sense of who we are and want to be as a society.  Some expressed that the gathering and the artists' messages gave them hope for the first time since the election – and strength that came from being in a room where others shared their experiences, concerns and commitment to change.  There was an energy in the room following the performances that was palatable and invigorating.
We all need these opportunities to be reminded that we cannot become complacent in our desire and efforts to create a society where all have opportunity and are treated with respect.  Philanthropy is one vehicle we have to identify what is important to us, use all of our assets (time, talents, treasure and ties) to make a difference and then to join with others who share our interest and leverage our impact.
Perhaps there has never been a more important time for philanthropy's leadership and for all of us to raise our voices about the kind of society and communities we want to have in Canada.