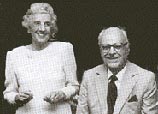 The fact that Ralph William Cooper received one of the first Cornerstone awards bestowed by the Foundation of Chedoke-McMaster Hospitals speaks volumes about the man. Born into a successful family (his father founded Cooper Construction), he was instilled with a profound sense of duty and pride in his community. His community leadership touched such organizations as the Tiger-Cat Football Club, McMaster University, the United Church, the YMCA and the Hamilton Civic Hospitals. Moreover, these activities were fit into the demanding life of raising three children with his wife Evelyn and helping to run a family business responsible for the construction of dozens of city landmarks – the Hamilton Board of Education building, the Union Gas building, the train station at Hunter and James streets, to name a few. A man of courage and determination, Mr. Cooper dismissed life's obstacles with the response "These little things are sent to try us" – a philosophy which he drew upon throughout his life.
Evelyn Joanna Cooper was a dedicated volunteer, avid traveler, Georgian Bay enthusiast and devoted wife – these are a few of the memories Bill Cooper has of his mother. Evelyn McArthur was born in 1908 and married Ralph William Cooper in 1932. She shared her husband's commitment to civic duty and juggled numerous volunteer activities – Big Sisters, Art Gallery, Hamilton Civic Hospitals and YWCA while raising three children. Although a world traveler, her favourite place was a cottage on a small island off Honey Harbour in Georgian Bay. A fitness fanatic before it was a trend, she swam at dawn until age 75, skied and played soccer with her grandchildren. With characteristic strength, she supported her husband of 62 years through a long illness and convalescence.
Ralph and Evelyn Cooper were life-long supporters of the Foundation and took pride in its growth and made many gifts to the Foundation and these gifts will continue to provide support to succeeding generations in our community.
Excerpt from 1995-1996 and 1996-1997 Annual Reports