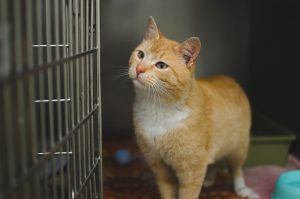 Kathy Wood already had a clear picture of how she and her husband John wanted to give to charity: she had spent her career as a trust officer helping people make decisions about their money.
Kathy and John demonstrated their trust in HCF by setting up a field-of-interest fund; this means that while they identify areas they want to support (animal welfare and adult literacy), they leave specific grantmaking decisions to the Foundation.
Animal welfare is important to the couple, who understand the joy that animals bring. "We have had pets for all of our marriage of 46 years and they have given us much happiness," says Kathy. Half of the fund's proceeds will support organizations that house, treat, feed and help the adoption of animals in need; the rest will support adult literacy, where they expect needs to grow. A portion of the fund will also go to the Community Fund that helps to address urgent community needs.
The Graas-wood Fund is a deferred fund, meaning the donation will come through the Woods' estates. Giving through a will is a powerful way to give, and HCF is part of a national campaign called Will Power that seeks to educate Canadians about these benefits.
Excerpt from 2021 Fall Legacy newsletter