"If people need our service, they will need it for life," says Cindy Kinnon, Chief Executive Officer of AbleLiving, a housing and support organization for people with disabilities. "We support people with disabilities to live independently throughout all stages of their life. So our services need to be stable and reliable over time. An agency endowment fund makes total sense for our organization. It fits our model of sustainability and independence and permanence."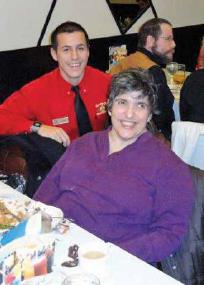 The AbleLiving Mary Traini Legacy Fund at Hamilton Community Foundation, is a permanent fund honouring the late Mary Traini, a founding board member of AbleLiving (then Participation House) in 1975 and a trailblazing advocate for people living with disabilities in the 1960s through the 1990s. The fund will help to cover equipment or services not included in the agency's government funding.
As an agency endowment fund, it is housed and managed at Hamilton Community Foundation but belongs to AbleLiving. (HCF holds similar funds for a growing number of other local agencies.) The relationship is one that AbleLiving prizes because of HCF's reputation and investment expertise.
"I have a deep sense of confidence about the community foundation's role in managing this fund for us," says Cindy Kinnon. "We've seen growth in the fund, the cost to us is modest, we receive regular information about the fund, and supporters who value AbleLiving's long-term stability, like the Traini family has, can contribute to it at any time."
Excerpt from 2011-2012 Annual Report