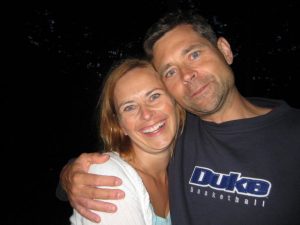 In the business of complex, long-term change, it's not often the community foundation hears definitive evidence that its granting has transformed a life. But siblings Anita and Christopher Counter have each reached
out recently to thank the Foundation for life-changing support they received more than 20 years ago.
These two extraordinarily accomplished adults – Anita Counter is senior vice-president in sales and marketing of a leading financial institution, and Dr. Chris Counter is a cancer researcher and professor at Duke University – were at risk in their teens. Estranged from their family and living on their own by 17 and 16 respectively, – with no resources and no support system, their futures were in serious doubt.
"Our growing up was pretty difficult", reflects Anita, "but the importance of education was drilled into
us, at least. We attended Delta Secondary and applied to McMaster. I got accepted first (I'm a year older than Chris) and I was thrilled. But then it hit me that I had absolutely no idea how I would ever pay for it. The cost might as well have been $3 million dollars, and I was making maybe $7 an hour then, renting a room downtown, helping my brother, both of us just trying to get by. We were pretty desperate."
A caring financial aid officer at the university made all the difference by suggesting HCF's Chaney-Ensign bursary. "I didn't know what a bursary was," says Anita, "but he walked me through the process." The bursary was $700 per year – enough at that
time to make the dream of higher education a reality.
Both Chris and Anita are clear that they would not have attended university without the bursary. It would have been impossible financially. Anita also credits the intangible boost of receiving the award: "Where we came from, just having someone who was interested in us was incredible. People don't realize how much that can make a difference."
With successful careers and personal lives in full flight now, both Chris and Anita want others to know what an impact this kind of support can have. "That bursary levelled the playing field for a disadvantaged kid like me," says Chris. "It allowed me to pursue education – the pathway out of poverty for me and many others. I can never thank Hamilton Community Foundation enough."