A striking gallery at the corner of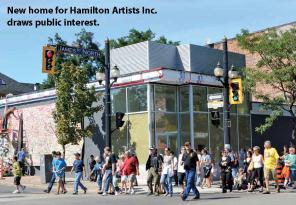 James St. North and Cannon Street West represents two landmarks:  a new home for Hamilton Artists Inc. supported by the first investment from HCF's new community investment fund.
"It's a stunning transformation at one of Hamilton's most visible corners," says Terry Cooke, HCF's President & CEO.   "We are absolutely thrilled that the Foundation is able to use more of its assets in unique ways to support positive change like this."
Canadian charities have historically had difficulty finding financing for expanding services and facilities. Lack of funding for core operations, growth and diversification inhibits what they can accomplish.
The Hamilton Community Investment Fund is a $5 million fund that invests in local charitable and non-profit projects – instead of the stock market. This amount includes $2 million available as loans to the sector, through a partnership with the Community Forward Fund, an innovative loan and investment organization that provides financing for financing charities and non-profits.
"We expect community investment to go beyond traditional granting and fill an important gap that will help to strengthen the charitable sector and the city," says Terry.
"The Inc." is a long-standing artist-run centre that supports and reflects the diverse environment of the community. A loan from HCF's Community Investment Fund  allowed them to complete the building project on time while awaiting promised financing that had been delayed. Read more about community investing at www.hamiltoncommunityfoundation.ca.