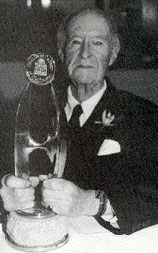 D'Arcy Argue Counsell Martin, Q.C., L.L.D. a founding Director of The Hamilton Foundation passed away in June 1992, at the age of 93. Argue Martin prepared a Private Member's Bill to establish The Hamilton Foundation and served as its first President from 1954 to 1956 and as honourary counsel for many years thereafter, in addition to advising clients of the opportunities for philanthropy offered by the Foundation.
Mr. Martin, himself set up two permanent funds in memory of his father, D'Arcy Richard Charles Martin, K.C., and his wife, Margaret Ellen Howard Martin.
A former City alderman, M.P.P. for Hamilton West, Chairman of the Board of the Hamilton Harbour Commission, Chancellor of McMaster University and respected lawyer for nearly 70 years, Argue Martin was honoured with a civic award in November 1991 and inducted into the Hamilton Gallery of Distinction.
He will be remembered as one of Hamilton's most distinguished and influential citizens
Excerpt from 1991-1992 Annual Report