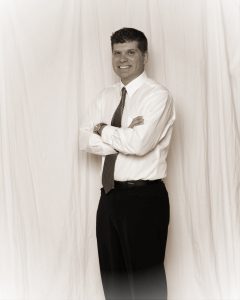 I attended Bishop Ryan High School in Hamilton between 1980-85 then on to McMaster University from 1985-89, where I graduated with a B.Sc. degree in biology. I then pursued a professional career as a Doctor of Chiropractic and graduated from the Canadian Memorial Chiropractic College in 1993. While in the chiropractic college, another recipient from Hamilton made me aware of the bursary.
I have celebrated my 20th year in practice as a Doctor of Chiropractic.
I currently have two chiropractic practices in Hamilton and have helped new chiropractors in their future plans. I am also a member of the Chaney-Ensign review committee.
Coming from a working-class family in Hamilton, post-secondary education and professional schooling are in many cases restrictive because of the financial burden put on the students and their families. The bursary was an avenue of funding that allowed hard-working students to continue with their studies.
This may seem odd but, aside from the obvious financial help during the time that I received the bursary, it seemed as though the entire Hamilton Community Foundation was pulling for me. When I was back in Hamilton during my schooling, I would often stop in to the office to say hello. The staff all knew me and I felt that part of my success was in not disappointing the Foundation. Today I am a volunteer with HCF and I try to create that same feeling of community with my practice and career.
From the first time I was made aware of the Chaney-Ensign Fund, I was taken aback at the selflessness and generosity of these two women. The fund has not only created a legacy for them, but also for all those who have benefitted from their kindness and generosity. They have promoted education and allowed many to succeed and be a positive influence in not only Hamilton but all over the world.
I have been able to see the value of this bursary from both sides of the fence. As a recipient, it helped to push me forward to enable me to be where I am today. I also have seen the success of many other recipients firsthand over the last 19 years as a committee member for this fund. When a community can care for one another, those who move on bring that with them and it will spread to others. One small act can have far-reaching impact like ripples in a pond and that, I believe, was the hope of the Chaney-Ensign sisters.