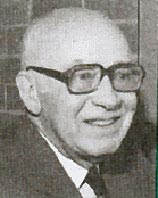 Dr. Ronald Graham's illustrious 50-year association with McMaster University touched every aspect of campus life. He served as the university's first bedel, sat on the Senate, chaired the department of chemistry, was named Dean of Science for Hamilton College and later became Dean of Science Studies.
The Ottawa-born chemist arrived at McMaster in 1942, after completing his Ph.D. at Columbia University in New York. During the Second World War he carried out classified research on methods for defending against chemical warfare. Students recall that while he was often intimidating in the classroom, admonishing them to observe, measure and write with care. Outside the lecture hall, he dropped the stern persona to reveal a warm, caring side.
Dr. Graham's nephew, Michael Etherington of Oakville, recalls that his uncle was an incredible communicator and storyteller. "He had an eloquent turn of phrase reminiscent of Winston Churchill's style of writing. His words really meant something. His letters were keepsakes not only for what they said, but because he had the most elegant handwriting." He said, adding that his uncle was a very private man with a wonderful sense of humour.
Along with the Foundation, several charities were remembered in Dr. Graham's will.
Excerpt from 1995-1996 Annual Report