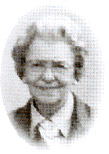 Flora Louise McNeil is remembered for her passion for music and the great pride she took in her heritage.
Her grandfather, Joseph Cline was deputy reeve of Ancaster in 1879 and Cline Avenue in Westdale is named for him. Her great-grandfather, Major Richard Hatt, was an officer of the 1st Regiment and a prominent Dundas citizen. Mrs. McNeil was born in 1907 and after graduation from business college, she was a secretary for several years at Eaton's in Hamilton. Her husband, Bill, owned McNeil's Bakery in Stoney Creek.
Grayce Krouse described her cousin as having a wonderful sense of humour. "We talked every day. Our conversations were always interesting because she kept up with current events. She was a beautiful pianist and played right to the end. When she played O Canada, she really showed her love for her country."
Mrs. McNeil belonged to the Stoney Creek Charter Women's Institute, Church of the Redeemer and the Women's Auxiliary of the Anglican Church of Canada (Life member) where she served for several years as secretary treasurer.
She died while making dinner in her Stoney Creek apartment on the same day her brother Donald Campbell died. Mrs. McNeil left the residue of her estate to the Foundation.
Excerpt from 1996-1997 Annual Report