Lifelong Hamiltonian and philanthropist Frank Miller has a history of wanting to see his financial contributions at work.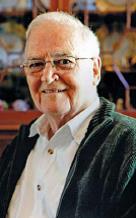 Mr. Miller originally intended to create bursaries for health care students through a gift in his will.  Recently, he decided he would like to launch them in his lifetime.
He has established the Frank Charles Miller Fund at HCF to provide eight bursaries, which will be presented annually to four McMaster University medical students and four Mohawk College nursing students.  His generous gift was inspired by the excellent medical attention he received from a nurse who had trained at the college.
"Mr. Miller's gift supports young people who couldn't otherwise pursue these careers," says Sheree Meredith VP of Philanthropic Services.   "By lessening the costs, he is setting them up for a promising future,"
Always an entrepreneur,  Mr. Miller brought the city its first coin-operated laundromat.  He expanded the business, then sold it, choosing to make a difference through many philanthropic endeavours. These include a number of health care and social services organizations, including a program that provides teddy bears to children coming into the care of the Children's Aid Society.
"Mr. Miller has had a long-time desire to give to his community in appreciation for what he has been able to achieve," says Sheree.  "He is an example of the growing number of Hamiltonians who want to create a legacy now and have an impact forever."
Excerpt from Legacy newsletter, Spring 2011