We've always known that HCF staff are committed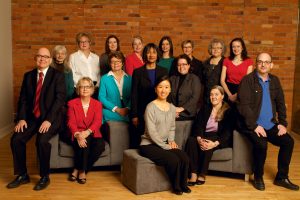 to this community.  An outstanding measure of that commitment: they all give to Hamilton Community Foundation and have for many years.
"It hammers home to me how dedicated the staff are to HCF's mission," says Board chair Paul Gibel. "There are other places they could work with their great skills, but they are fully engaged in what we are trying to achieve. It's more than a job. They prove that with their work, and they prove it with their financial contributions. As chair, it gives me a tremendous feeling of confidence."
The staff fully embrace the idea that anyone can be a philanthropist and the Foundation can meet anyone's charitable goals. Each employee gives to the cause he or she cares most about, supporting more than a dozen funds overall.
"We believe in the work we do," says Morag Halsey, whose voice has welcomed callers to HCF for most of her 14 years at the Foundation. "It just makes sense to contribute financially too." Morag's special cause is children and she directs her gifts to the Hamilton Spectator Summer Camp Fund. She remembers the challenges of being a single parent and appreciates the opportunities the Summer Camp Fund gives disadvantaged kids every year.
Anne Lupkoski has worked at HCF for 25 years, assisting three CEOs. She supports the Youth Advisory Council (YAC) program. Her own chil­dren have participated over the years and she is passionate about the growth she sees in them and others because of the YAC opportunity.
As grants manager, Sharon Charters knows Hamilton's needs well, She also knows from family experience the importance of mental health initiatives, so she chooses to donate to the Angel Fund, started by Shirley Elford, to focus on programs in this area.
"I think each of us gets a sense of fulfillment from supporting the priority that's closest to our heart," says Sharon. "It's something we all feel as staff contributors, just the way other donors do."
Excerpt from 2013-14 Annual Report