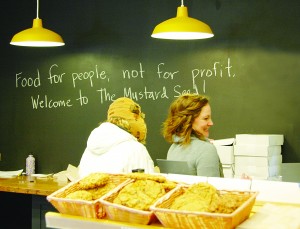 A bustling new addition to Hamilton's food landscape represents two milestones:  the city's first co-op grocery store and the latest loan from the Hamilton Community Investment Fund (HCIF).
Like all co-ops The Mustard Seed, located just west of Locke Street on York Boulevard, is member-owned, though you don't have to be a member to shop there. Its emphasis is on offering locally produced, sustainable food and creating a "positive impact on our local economy, our community, our health, and our environment".
"As a social enterprise, The Mustard Seed was a clear match for us," says Annette Aquin who heads up the Foundation's impact investing program.  "It touches many of our investment themes to create positive change, especially in the surrounding neighbourhood."
The HCIF offers financing to Hamilton-area charities, non-profits and social enterprises. It's one component of the Foundation's impact investing portfolio that seeks to put more HCF assets to work in support of our mission.
Mustard Seed CEO Graham Cubitt says that the HCIF loan process was beneficial in ways beyond generating capital.  "It helped us to make sure we had good answers to important questions about our feasibility, long-term goals, and ability to repay," he says.  "It was a good education and we're happy knowing the loan interest is going back into the Foundation's other good works."
Watch Annette and Graham talk about HCIF and the Mustard Seed at here.
The store opened in January with 1,220 members and added another 200 in the first month.
Excerpt from Legacy newsletter, Spring 2014