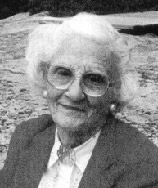 Calm, organized and efficient are among the qualities attributed to Margaret Murgatroyd by her daughter. Beth Lennard says her mother was a private person who gave a lot of her time to community affairs but managed to make it seem effortless. She was involved with numerous organizations from the Ontario Garden Club and the Red Cross to Hillfield-Strathallan College. As a life-long parishioner at Centenary United Church – the church her parents also attended – she often volunteered for church activities.
Margaret was born on August 4, 1907 to noted Hamilton surgeon John Roland Parry and his wife Evelyn. As a child, she traveled to Europe with her parents where Dr. Parry pursued medical studies in London, Vienna and Berlin. (When they returned, her father brought with him a revolutionary new X-ray machine.)
Margaret married lawyer Fred Murgatroyd in 1930. They had two children, Beth and Bob, and celebrated their 50th wedding anniversary shortly before Fred's death. Bob remembers his mother as a vivacious, disciplined woman with a caring and generous nature. "Her 10 great-grandchildren and eight grandchildren adored her. Even when she was ill, she didn't lie in bed. She would get up, dress like a lady and be ready to go. She never complained."
Margaret also enjoyed sports, particularly downhill skiing, golf and curling. "She loved to visit the Royal Botanical Gardens. She walked everywhere and had very sharp eyesight all her life. In fact," Bob laughed, "When she was in the car with me, she would point out all the stop signs."
In 1998, Margaret celebrated the 70th anniversary of her graduation from the University of Toronto; she was well into her 80s when she gave up driving herself to North Carolina to join her sister Rosa for a holiday.
Margaret died in June 2000 and left a bequest to the Foundation that has become part of the Ontario Endowment for Children and Youth in Recreation Fund. Beth recalls when her mother made the decision to remember the Hamilton Community Foundation in her will. "She had faith in the Foundation because it changes with the times and takes care of the community. It was a determined choice. She felt the money would be wisely spent."
Excerpt from 2000-2001 Annual Report