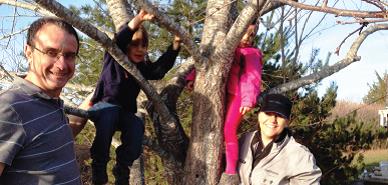 Maria Antonakos and Harald Stover support the causes they care about in a variety of ways. The fund they've recently established at the Hamilton Community Foundation is a special pillar in that giving.
Harald, a professor in McMaster's Department of Chemistry, describes the fund as an opportunity to address financial planning needs through a philanthropic instrument.
He explains that his side of the family came from Germany in each of three generations – his paternal grandparents in the early 1900s, his mother in the 1950s, and himself as a graduate student in the 1980s.
"My family were welcomed to Canada, and I received a great graduate education here,'" he says. "This is one way to give back to the community."
Maria agrees. "There's a 'circle feeling' about this – a looking forward and back." She explains that she and Harald had their children late in life and that they hope to use the fund to teach their twins about managing money and being philanthropic. "This is something we can get started now, with smaller gifts, and that the kids can grow with over time."
The endowment aspect of the fund is important to both Maria and Harald. They like the sense of permanence it provides, allowing them to focus on the grants they choose to make while they leave the investment and administration concerns to the community foundation.
For Maria, whose career has involved diverse aspects of philanthropy, the Foundation's knowledge of Hamilton's needs and opportunities is also a big plus. "Since I'm working outside of Hamilton," she says about her current position with the Perimeter Institute, "this is a way to have a community focus as a family."
Harald agrees: "The community foundation knows the local scene. They have expertise about what organizations are doing really good work in the area. It's a great partner in our philanthropy."
excerpt from 2015 annual report