Hamilton treasure is HCF's newest agency fund
Establishing a long-term endowment fund at Hamilton Community Foundation has given the Canadian Warplane Heritage Museum "instant credibility" with contributors says the museum's President and CEO, David Rohrer.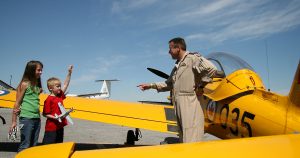 "We needed to develop a legacy gifts program for the museum," he says, "and we quickly realized that we weren't best suited internally to manage those investments. The community foundation offers the expertise we need. We are very pleased to be affiliated with HCF in this way. It was the right step."
David points out that placing its endowment with HCF – the organization made its initial investment in 2015 – also exposes the museum to a wider range of potential supporters. The museum has a goal of contributing 10 percent of undesignated gifts to the fund, he says, and having the endowment at arm's length protects it from the pressures of day-to-day operations.
"We are community-based and proud to be in Hamilton," says David, "and we are very grateful for HCF's support of the museum's High Flight program, in addition to the endowment fund." The High Flight initiative offers field trips and approved curriculum to Grade 6 science and Grade 10 history students. Twenty-five schools in the region participated this year. David illustrates the influence of the program: one of Canada's current CF-18 fighter pilots reports that he got his first taste of aviation with a visit to the museum decades ago.
"The Canadian Warplane Heritage Museum is the largest flying museum in Canada," says Terry Cooke of HCF. "It has been a Hamilton treasure for 44 years. We are thrilled that such an outstanding organization trusts us to manage its long-term endowment."
Excerpt from 2016 Annual Report