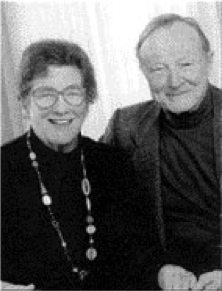 In the spring of 2000, one of the largest charitable donations in Canadian history was made to the Hamilton Community Foundation – transforming our organization's resources and ability to respond to the charitable priorities of our community. This gift comes from Joyce Young – a private, soft-spoken, Hamilton-area woman – who made a donation of $40 million to the Foundation. More broadly, Mrs. Young's remarkable gift to the Hamilton area has inspired people throughout communities across Canada, sparking dialogue and awareness of the power of individual citizens to change their communities.
The desire to help their nephew, Bob Young, in a high tech business venture left Joyce and her husband Bill with a financial windfall that exceeded their wildest expectations. Joyce made an investment in Red Hat Inc., the company established by their nephew. After holding the company's stock for three years, she took out her original investment, leaving a little in "just for fun". The "fun" translated into stock worth over $40 million.
Mrs. Young's concern was to use the money responsibly to strengthen the services and supports in our community. It is significant that this generous gift, which, by virtue of its magnitude will transform the grant-making capabilities of the Foundation, results from the field of technology, which has had such a major impact on transforming our community. The Community Foundation will ensure that the Youngs' generous gift has a broad and significant impact, strengthening our community and the quality of life enjoyed by all who live here. Joyce and Bill Young also hope that their gift will inspire others who reap financial windfalls to make similar charitable donations and, equally importantly, that each of us will be inspired to "give back to our community".
By the tenth anniversary of that extraordinary gift, there had been grants totaling more than $11 million to innovative programs in Hamilton, across Canada and internationally. These grants have touched areas including education, health, the arts and the environment.
Perhaps one of the best examples of the impact is Pathways to Education, a trailblazing program that has proven to reduce high school dropout rates dramatically among disadvantaged youth and help them go on to post-secondary education. Pioneered in Toronto's Regent Park, The Young Fund has supported its expansion to 11 Canadian communities including Hamilton, where it is addressing the critical issue of low high school completion in challenged neighbourhoods.
Their gift has also improved the life prospects of countless Hamilton young people through the creation of NYA:WEH, an Aboriginal stay-in-school initiative, and a model that is having an influence across the country.
Transformative to the Foundation and to Hamilton, the Young gift in 2000 virtually doubled the granting capacity of HCF's Community Fund, which is directed to the city's highest needs. It continues to contribute to this fund annually. At the same time, it enabled the Foundation to pilot its Growing Roots…Strengthening Neighbourhoods program. Together, these components have come together to inform and enable HCF's neighbourhood-based poverty-reduction work.
"There are many remarkable aspects about this gift," says President & CEO Terry Cooke, "and perhaps most humbling is the trust placed in the Foundation and the confidence the Youngs have in Hamilton and its future."
The Young gift continues a family tradition of giving back to their community. Their roots in the community are deep and their commitment to its welfare is profound. Joyce's great-great grandfather, Colin Ferrie, became the first mayor of Hamilton in 1847. Bill's ancestors established the Hamilton Cotton Company and his father, James Young, was one of the founding board members of Hamilton Community Foundation in 1954.
The Young Fund is a legacy that will continue to transform this community for generations to come.