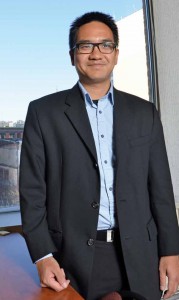 In his quiet, gentle way, Ninh Tran is crystal clear about the impact he wants to have with his philanthropy.
"I grew up learning the value of every dollar," says the 35 year-old Dr. Tran, who emigrated from Vietnam to Canada at the age of two. "My parents put everything they had into my education and my chances here. They saved and saved, for me. I understand the value of that support. I'd like to give the same chance to other young people who are willing to work hard to improve their life prospects."
Since high school, Ninh has thought a lot about how he could have an impact in the world. He considered politics but settled on medicine, earning his MD from Queen's University and completing his residency in family medicine and public health here at McMaster. He is currently Associate Medical Officer of Health for the City of Hamilton.
Dr. Tran started the Tran Family Fund at Hamilton Community Foundation in 2011. It will support programs that help youth reach their full potential.
"You don't have to be a millionaire to begin making a difference," he says. "I've started small. I will get experience and learn as I go along. I hope others will contribute and help build the fund up over time." He already has ideas about using social media to promote awareness of philanthropic opportunities and the impact of giving.
"Creating a fund meets two different needs," Ninh says thoughtfully. "It fulfills the need to give back, and it allows you to build your legacy. Both aspects are powerful."
Donations are welcome.  To give online click here or for more information, please contact the Hamilton Community Foundation.
Excerpt from 2011-2012 Annual Report