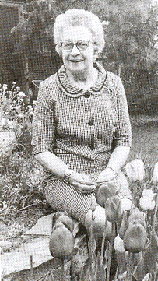 Marion Shivas could name every flower, bird, tree and weed in her backyard and at the cottage on the Bruce Peninsula she owned with her husband, Bob. The enjoyment of nature was the main focus of their lives. It found expression in the garden of their Dundas home and their love of hiking on the Bruce Trail.
The two met while employed at Hamilton's Tuckett Tobacco Company, although Bob went on to become general manager of Rheem Canada Ltd. When Marion retired after 32 years as secretary to Tuckett's vice-president of sales, she devoted her life to natural history, wildflower protection and land conservation. She was active in the Hamilton Naturalists' Club as President for six years and as Sanctuary Director for 25 years. In 1961 she led the club in its first land purchase, Spooky Hollow Sanctuary, a 95 acre tract of stream-crossed, wooded land rich in plant and animal life near Normandale, making Hamilton the first naturalist club in Canada to possess its own nature sanctuary. Subsequently, she guided the club in the purchase of the Short Hills Wilderness Area and other nature reserves.
Marion Shivas was honored not only by the HNC for her leadership of Ontario Naturalists of which she was a director. In addition, she was recognized by the Dundas Horticultural Society, Ontario Heritage Foundation and Hamilton Region Conservation Authority.
Predeceased by her husband in 1972, Mrs. Shivas established the W. Robert and Marion S. Shivas Conservation Trust in order to ensure that generations could continue to enjoy the rich natural heritage they cherished. She died at the age of 91 and, in her will, bequeathed the residue of her estate to the Foundation to be used for the preservation, promotion and protection of plants, wildlife and conservation in general, in the areas under the jurisdiction of the Hamilton and Halton Region Conservation Authorities.
Excerpt from 1996-1997 Annual Report