Seniors
Diversity of Seniors
Key findings:
Almost half of Hamiltonians 65 and over were born outside of Canada, with the vast majority coming from European countries.
The proportion of seniors born in Asian countries has risen from 9% to 14% over the past decade.
While the census has substantial limitations when reporting on Indigenous people, the number of seniors reporting Indigenous heritage doubled over the past decade.
The percentage of seniors who are visible minorities has increased over the past decade to 9%, but remains well below the 19% rate for Hamiltonians of all ages.
Diversity of Seniors
Place of Birth
According to the 2016 census, of Hamiltonians over 65, 45% were born outside of Canada, down slightly from 47% in 2006. The vast majority emigrated from European countries (77%), a decrease from 82% in 2006. Approximately 14% were born in Asian[1] countries, an increase from 9% in 2006. Seniors born in the Americas[2], not including Canada, made up 9%, and 2% were born in African countries.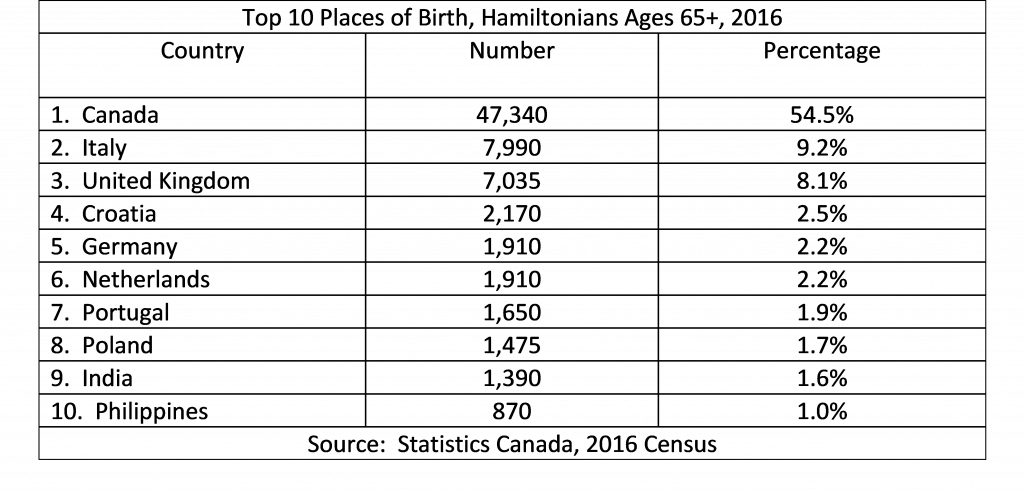 Diversity of Seniors
Indigenous Seniors
The Census is known to have significant under-representation of Indigenous people, and this may be especially true for older Indigenous people. As Our Health Counts[3] explains: "persons may choose not to participate in the Census for personal and/or political reasons; persons may participate in the Census but choose not to identify as First Nations because the ethnicity questions don't match their self-identity; and persons may be homeless or without a permanent address" (p.21). The nearby Six Nations of the Grand River Reserve did not participate in the 2016 Census.
Given these limitations, in the City of Hamilton in 2016 there were 890 people, 65 and over, who reported having Aboriginal ancestry, double the number in 2006 (405). Almost 60% of Indigenous seniors are women. Just over half of seniors (54%) reported they were married or in common-law relationships, nearly one-third (32%) live with non-relatives or alone, 7% reported being in a lone-parent family, and 7% live with extended family.
There were 380 respondents (43%) who reported being a Registered or Treaty Indian[4]. Of those who described their Indigenous heritage in more detail, 72% reported some First Nations heritage, 29% report Metis heritage, and 1% Inuk[5]. Respondents were also given the option to give more specific responses: the most common being Mohawk, Ojibway, and Iroquois (which includes Haudenosaunee, Seneca, Onandaga, and Tuscarora)[6].
Diversity of Seniors
Racialized Seniors (Visible Minorities)
In Hamilton in 2016, just over 9% of seniors identified as a "visible minority", compared to 19% of Hamiltonians of all ages. The proportion was higher for those between the ages of 65-74 (10.4%) than those over 75 (8%). Both of these percentages are higher than in 2006 when they were 8% and 4%, respectively[7].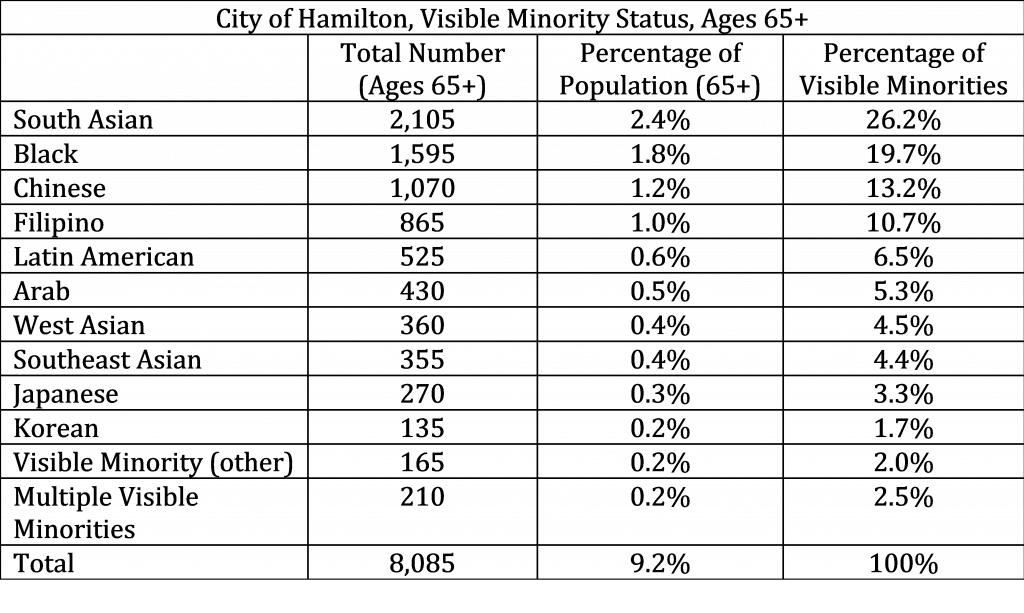 [1] Includes Afghanistan, Bangladesh, China, Hong Kong, India, Iran, Iraq, Japan, South Korea, Lebanon, Pakistan, Phillipines, Sri Lanka, Syria, Taiwan, Vietnam.
[2] Includes Brazil, Colombia, El Salvador, Guyana, Haiti, Jamaica, Mexico, Peru, Trinidad and Tobago, United States.
[3] Our Health Counts: Urban Aboriginal Health Database Research Project: Community Report, First Nations Adults and Children, City of Hamilton, 2011.
[4] Registered Indians are persons who are registered under the Indian Act of Canada. Treaty Indians are persons who belong to a First Nation or Indian band that signed a treaty with the Crown. Registered or Treaty Indians are sometimes also called Status Indians (Statistics Canada, Aboriginal Population Profile 2016, note 16).
[5] The total adds up to over 100% because respondents could have multiple heritages (e.g. First Nations and Metis).
[6] For a full discussion of these definitions and terms, please refer to the Aboriginal People's Reference Guide, Census of Population, 2016.
[7] Statistics Canada, 2016 Census, Special Request. Social Planning and Research Council of Hamilton, 2011: A Profile of Vulnerable Seniors.