Seniors
Housing
Key findings:
Nearly 75% of seniors own their own homes, most of which are single detached, and this is true even for seniors 85 and older.
Most seniors who rent are in buildings with more than 5 stories
The percentage of seniors living alone (27%) is increasing, and 70% of those are women. For seniors 85 and over who are living alone, 78% are women. Hamilton is higher than provincial average (27% vs 23.5%)
Hamilton has added 600 long term care beds over past 15 years resulting in a total of 3,866 beds, with a waiting list of approximately 1000 people in community.
Housing
Housing tenure
According to the 2016 census, nearly three-quarters (74%) of seniors in Hamilton owned their home, slightly lower than the 77% provincial average. This percentage was consistent across age ranges: 65-74, 75-84 and 85+, and has not changed since 2006. The vast majority (78%) of their homes were single, detached houses[1].
One-quarter of Hamilton seniors rent their homes, and of those homes, nearly two-thirds are apartments in buildings with five stories or more. While the percentage of Hamilton seniors who are renters is the same across age ranges, the provincial rate rises as people age: 21% of ages 65-74 rent, 24% of ages 75-84 and 27% of ages 85+.
Housing
Seniors living alone
In Hamilton, 26.6% of seniors lived alone in 2016, higher than the provincial average of 23.5%. The likelihood of living alone increased with age: 21% of ages 65-74 lived alone, 28% of ages 75-84, and 33% of ages 85+.
Women are far more likely to live alone: 70% of seniors living alone are women, with the likelihood increasing with age: of those 85 and over the percentage is 78%.
The number of seniors living alone in Hamilton is increasing. The graph below shows a 26% increase to 23,135 in 2016 from 18,295 in 1996.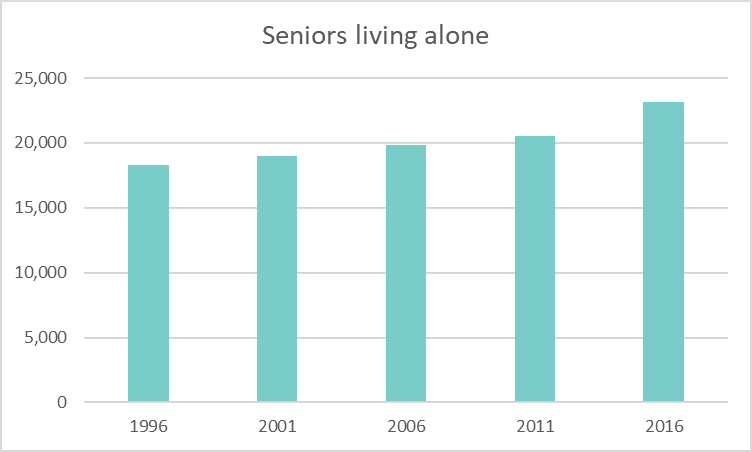 Housing
Long-term care homes
For seniors who need more support than they can receive at home, long-term care (also known as nursing homes) is another housing option. In Hamilton, there are 27 long-term care homes totalling 3,866 long-stay beds[2] – an increase from 2003, when there were 21 homes with a total of 3,212 beds[3].
Over the past year, an average of 115 people were placed into a long term care home monthly (a total of 1,380 over the year). As of February 2019, there are 1,651 individuals waiting for a long-term care bed in one of the Hamilton's long-term care locations, 665 of whom are already in a home and are waiting for a transfer, leaving 986 people who are waiting for a placement in the community[4].
[1] Statistics Canada, 2016 Census. Table 98-400-X2016227.
[2] Hamilton Haldimand Niagara Brantford Local Health Integration Network. Special data request.
[3] Hamilton District Health Council 2003. Emerging trends and issues for long term care services in Hamilton.
[4] Hamilton Haldimand Niagara Brantford Local Health Integration Network. Special data request.