Seniors
Seniors in Hamilton
Key findings:
The number of seniors has risen dramatically over the past decade. The number of seniors ages 85 and over has risen at an even higher rate, with men 85 and over being the fastest growing group of seniors.
Hamilton's Ward 5 has the most seniors, while the former Ward 7 and Ward 13 are higher than average. Ward 9 has the fewest seniors.
Between 2006 and 2016, the number of seniors (ages 65 and over) in Hamilton increased to 92,910 from 75,395, an increase of 23% — nearly four times greater than Hamilton's overall growth (6.4%). The number of seniors ages 85 and over, increased to 13,930 in 2016 from 8,945 in 2006, an increase of 55%.
In 2016, women made up 56% of seniors, and nearly two-thirds of those 85 and over. Men 85 and over were the fastest growing group of seniors between 2006 and 2016, increasing by over 70%.

Hamilton's Ward 5 in East Hamilton has the highest number of seniors with 9,287 (the ward average is just over 6,100). The former Ward 7 on the Mountain (8,491) and Ward 13 Dundas (8,412) are also higher than average. Dundas has the highest percentage of seniors of any ward with 23.8% of its residents over 65. Ward 9 Upper Stoney Creek had both the lowest number of seniors (3,130) and percentage of seniors (10.9%).
For a more detailed breakdown of where seniors live in Hamilton by neighbourhood, visit the Hamilton Spectator's All About Us: A Portrait of Hamilton.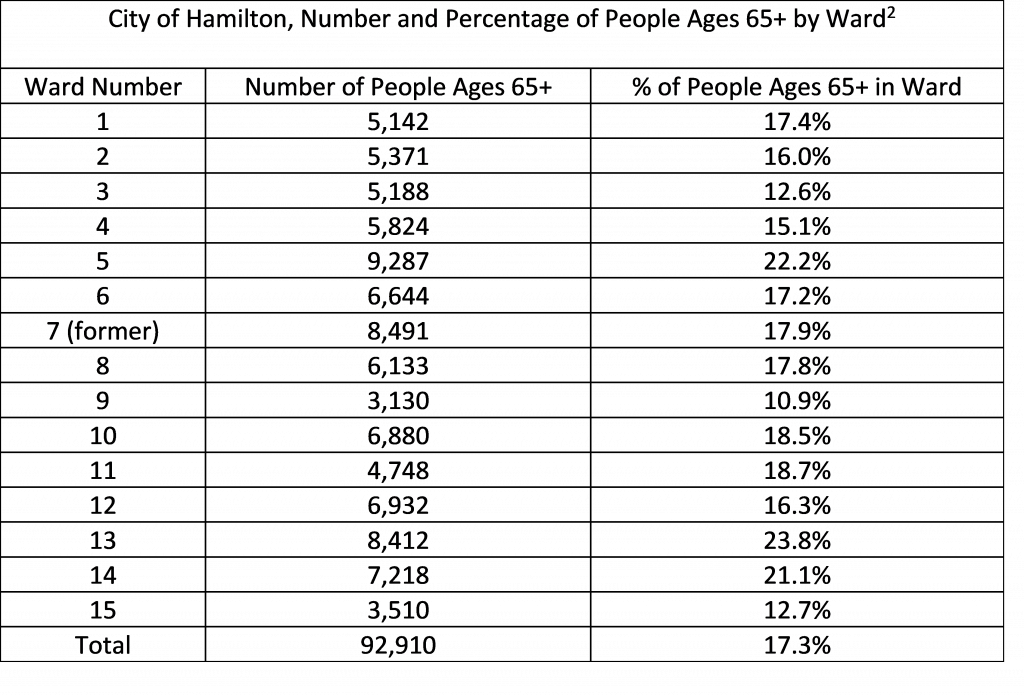 1 Statistics Canada, Census Profiles, 2016 & Community Profiles, 2006.
2 City of Hamilton, 2016 Ward Profiles.